Products
News
We recently visited our customer Jungheinrich Lift Truck Oy in the beautiful city of Kerava, located in the south of Finland. They first discovered regeneration through our customer Ohman Trukit that provides battery service in Finland by means of our Replus equipment.
They were so impressed by the long-lasting increased capacity after regeneration that they decided to order their own regenerator.
Thank you to the Jungheinrich Lift Truck team for their hospitality and confidence in Energic Plus!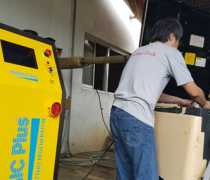 We are proud to inform you about the first installation of a Replus battery regenerator + accessories at the Philippines. Forklift batteries will no longer be prematurely discarded thanks to our Replus technology.
We wish our partner a lot of success with his brand-new machine and we are quite sure that we will come back to the Philippines soon enough for more sales and installations.