Products
News
In this blog, you'll learn how to use a professional battery discharger. A lead-acid battery is the most expensive part of your equipment. Making sure it's in good condition is not just important for keeping your equipment functioning properly - it can also save you lots of money because you aren't replacing batteries prematurely.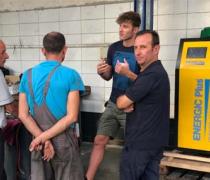 The good news is spreading all over the world! Lead batteries can now last longer and maintain their capacity thanks to the Energic Plus battery maintenance expertise and technology.
Most countries in the Balkan region already use the Energic Plus battery regeneration technology. Albania recently joined these countries, and will now provide a full maintenance and regeneration service, not only to traction battery operators but also to any industrial lead battery operator.