Battery reconditioning, chargers & jump starters
News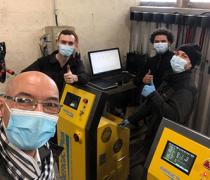 In 2018, at Senlis in France, CAPM Europe SA, already a user of older generation regenerators, decided to switch to newer, more reliable technology, allowing them to use reports on the state of their fleet. 
Building on this new experience, and given their large fleet, CAPM has invested in a second regenerator with a view to extending in 2021. 
Energic Plus has provided a complete fit-out for a new battery workshop for valued client, Sri Ananta Enterprises in India. Thanks to the installations of a REPLUS battery regenerator, Hydropure deioniser system and MVX multi-voltage battery charger, they're enjoying easier battery maintenance than ever before. 
We want to say thank you for this opportunity. It's so exciting to put our top-quality products to work doing what they do best: giving our clients ultimate battery performance at all times. 
Wondering exactly what these products do?