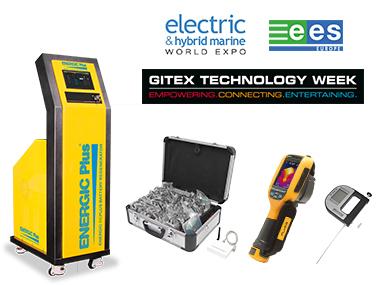 Energic Plus participates in several trade fairs in the next months. We look forward to welcoming you during these fairs. At our stand, you can meet all our products and learn more about their advantages. Discover our Energic Replus battery regenerator, our heavy duty jump starters and all our maintenance equipment. We will be more than happy to give you more information on the many services we offer.
Energic Plus will be present at the Electrical Energy Storage trade fair from 10 to 12 June 2015 in Munich. We welcome you with open arms at stand B1.258.

From 23 to 25 June you can find us at the Electric and Hybrid Marine World Expo in Amsterdam. You can meet us at booth 4100.

Energic Plus will also take part in the Gitex Technology Week in Dubai. You can visit our stand from 18 to 22 October 2015.
Battery regenerator
Sulphation is the main reason for capacity loss and malfunction of lead-acid batteries. With the REPLUS technology, the battery regenerator gives your batteries a second life. The lead sulphate is removed by an electrical high-frequency pulsation process. That way, the battery gains a lot of its lost capacity.
Maintenance equipment
Our maintenance equipment is very sophisticated. Going from our thermal imager, resistance meter, battery dischargers, BMS-Systems and of course our battery analyzers. It was developed to revive your old and used batteries.
More info on the battery regenerator
More info on maintenance equipment