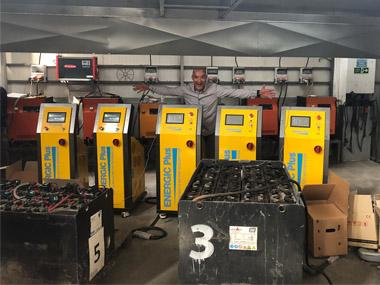 Gama Akü is a Turkish company with its HQ located in Bursa and three more domestic locations in Turkey.

Gama Akü's mission is to provide energy at a minimum cost and high-quality service.

Closely linked to the battery manufacturer Inci, Gama Akü has set up a huge facility to overhaul, maintain and regenerate batteries.

With a service chart leading to service excellence, Gama Akü has all the latest technology to perform case blasting and welding, coating and painting, but also battery testing, analysis, and regeneration.

Energic Plus supplies all technology related to battery maintenance and regeneration. The first 5 complete regeneration sets are now in operation in Bursa but more equipment will follow soon to meet the goal of delivering 1500 regenerated batteries yearly.

TVH and Energic Plus are proud to be a part of the battery regeneration service development in Turkey. This market is building a growing awareness of energy saving and battery maintenance, and Gama Akü is planning to be a major player in this growing market thanks to Energic Plus.