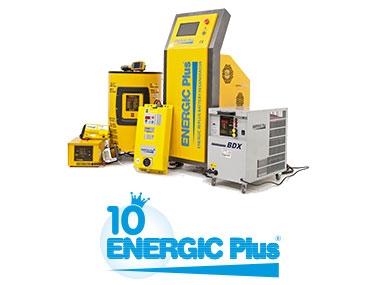 2013 is a festive year: the renowned brand Energic Plus® exists 10 years. Energic Plus® supplies batteries, battery chargers and accessories for lift trucks and other industrial vehicles. For this 10th anniversary we bring out a brand-new catalogue containing all Energic Plus® products.
The Energic Plus name is synonymous with quality in power electronics for battery operated systems. We offer a complete range of industrial battery chargers and heavy duty jump starters that provide outstanding reliability and performance with traction batteries of all types (flooded or sealed lead-acid, gel cell, Ni-Zn), used on any type of vehicle or portable equipment:
- Material handling machineries & motive applications: electric fork lift trucks and orderpickers, electric vehicles and tractors for indoor transportation, automatic conveyance systems, emergency plant vehicles, personnel carriers
- Commercial and consumer: electric wheel-chairs, scooters, golfcars...
- Portable diagnostics equipment for electrical testing.
The power conversion components of our chargers are based on dispersed flux and ferro-resonant transformers, high frequency switching and SCR technologies. Standard and faster chargers are available for flooded lead-acid batteries; constant current and constant voltage chargers are available for sealed lead-acid and gel-cell types.
The charge process is managed by microprocessor based electronic cards, fully automatic, featuring the most advanced software functions available today. These cards are also available as replacement control systems for old and/or broken chargers. Energic Plus are the only European motive battery chargers with UL and CSA certifications.