High-Frequency CAN BUS charger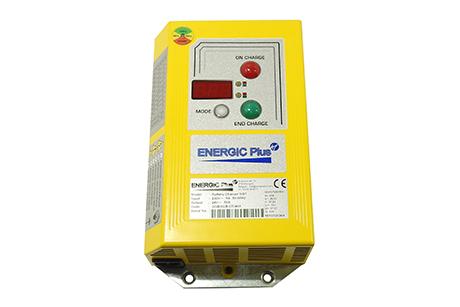 We present you our new high frequency battery charger with CAN BUS interface.
These high frequency chargers save a considerable amount of energy, which in turn entails an economic advantage.
The CAN BUS system makes communication with other devices possible. Just think of things like the controller, BMS, computer or displays. This charger has a large memory that gives access to relevant information such as charging history, charging cycles … . This allows the performance and flexibility of the charger to be improved.
With a single button you can easily adjust the charging functions, visualize them on the display and place them on any type of battery.
Features:
Storage of over 250 charging cycles
Enclosure class: IP20
Acoustic alarm
Desulphation charging curve
Input voltage: 230 - 400 VAC ± 15% (single- and three phase)
Input frequency: 50 – 60 Hz
Efficiency: up to 93%
Programmable charging curve
Inverse polarity protection (fuse)
Thermal compensation of battery voltage (optional with thermal sensor)
Auxiliary contacts of main presence and end of charge (Standard Charger) or of air pump control and end of charge (Charger with air pump)
Operating temperature: from – 20 to + 50 °C
Simplified programming without need of computer by pressing the MODE button... it can be selected the following:

Node (MASTER, SLAVE, STAND ALONE)
Battery type
Curve type
Battery capacity in Ah
Recharging time

Suitable for several battery types (lead acid, gel, lithium-ion, ni-mh, etc.)
In conformity with the requirements of the Low Voltage Directive and of the Directive EMC