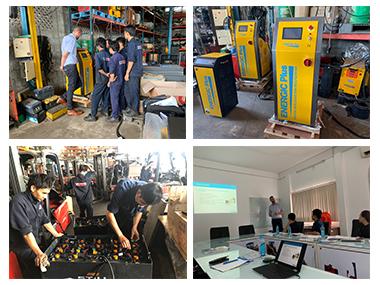 Tin Quang Forklift Co. is an authorised dealer of Linde forklifts in Vietnam. Although the business primarily focuses on providing forklift rental services, it also serves the market by providing various brands of forklift batteries. With this market segment growing year by year, Tin Quang Forklift Co. has been looking for a solution to reduce battery replacement costs for their own electric forklift fleet.
We as Energic Plus, have been working very closely with the company on all their forklift spare parts. We were happy to become involved as an advisor and provider for their battery maintenance needs.
We assembled a tailored solution that allows Tin Quang Forklift Co. to perform professional battery maintenance at the highest efficiency and with clear reports on the condition before and after the process.
A M1007F battery regeneration machine for lead-acid batteries up to 1000 Ah.
40 x 2V BMS sensors to track the status of each cell during the loading test.
A MPD1007E discharger, that integrates perfectly with the M1007F battery regenerator, to speed up the regeneration process as a whole.
Energic Plus works with stakeholders to ensure we understand how to implement the regeneration solution. As such, full theoretical and practical training was provided for the entire technical team at Tin Quang Forklift Co. This has allowed them to branch out into a new business, offering premium battery maintenance and regeneration services to their end-users.
The feedback on the Energic Plus battery management system has been extremely positive. Everyone at Tin Quang Forklift Co. is impressed, not only at being able to recondition and regenerate their batteries, but also at being able to produce highly detailed reports on each battery. The reporting capabilities are a powerful means of convincing potential clients of the value of their regeneration services. In fact, results have been so positive, the company has invested in another battery regeneration machine.
The head of Tin Quang Forklift Co. and the manager of the Battery division are extremely satisfied with the Energic Plus battery management systems. They are already hinting at making further investments in the future.